Our Small Business Expo Experience
The lively streets of Phoenix set the stage for the recent Small Business Expo, a gathering that ignited our enthusiasm. This event offered us an exceptional opportunity to connect with a multitude of prospects eager to explore how Optimum could enhance their business processes. In this blog, we're excited to share our thrilling experience and the promising connections we established.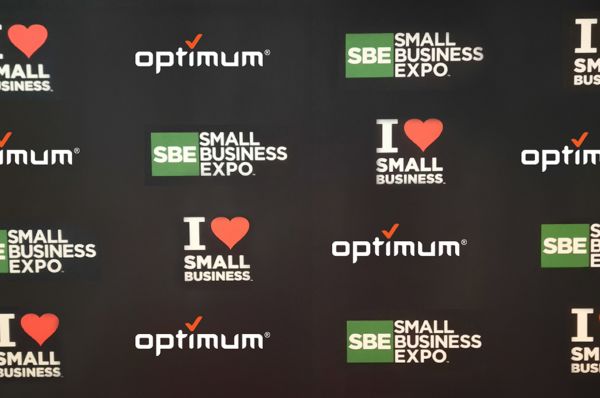 Connecting with Small Business Enthusiasts
As we entered the expo hall, the atmosphere buzzed with energy. The Small Business Expo in Phoenix attracted a diverse crowd of entrepreneurs, business owners, and industry professionals, all on the lookout for innovative solutions to streamline their operations. Witnessing so many small businesses thriving and striving for success was genuinely heartwarming.
Our Booth
Right at the heart of the expo, our booth stood confidently, equipped with the latest technology from Optimum and staffed by a friendly team of experts ready to engage with attendees. We had thoughtfully designed our booth to showcase how Optimum could simplify even the most intricate business processes. Through live demonstrations and video infographics, we effortlessly piqued the curiosity of numerous visitors.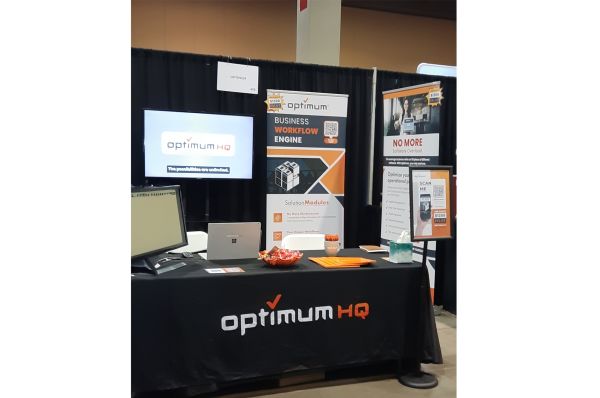 The Magic of Conversations
One of the most rewarding aspects of attending the Small Business Expo was the conversations we had with attendees. We actively listened to their challenges and aspirations, and in turn, we shared how Optimum could be the solution they were searching for. Seeing the spark of enthusiasm in their eyes as they grasped the potential of our solutions was truly heartening.
Throughout the event, we had the privilege of connecting with a wide array of prospects, each with their unique business challenges. From emerging startups looking to establish their foothold to well-established businesses aiming to enhance their efficiency.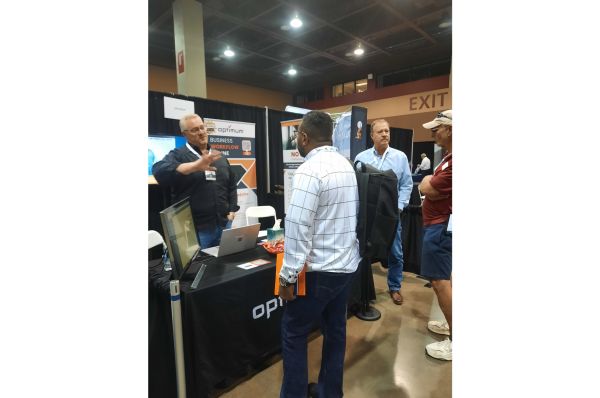 Planting the Seeds of Partnership
In the realm of business, relationships form the cornerstone of growth. At the Small Business Expo, we planted the seeds of potential partnerships. We exchanged contact information, scheduled follow-up meetings, and left no stone unturned in ensuring that we could support these businesses on their journey to success.
What truly set us apart at the Small Business Expo was our dedication to understanding the unique needs of each business. We emphasized that Optimum is not just a product; it's a partner in simplifying complex processes, boosting productivity, and fueling growth.
A Heartfelt Farewell
As the Small Business Expo in Phoenix drew to a close, we couldn't help but feel immense gratitude. The event gave us the chance to witness firsthand the resilience and determination of small businesses in their quest for excellence. We left with hearts full of optimism and a renewed commitment to helping businesses unlock their full potential.
Our experience at the Small Business Expo in Phoenix was nothing short of extraordinary. We met inspiring individuals, forged meaningful connections, and, most importantly, witnessed the tremendous potential for Optimum to make a significant impact in the world of small businesses. We are eagerly looking forward to embarking on this journey with our new prospects, simplifying their business processes one step at a time. Phoenix was just the beginning, and we can't wait to see where this incredible journey takes us next.