Arizona Moves Up the Ranks for Best States for Business and More
In late December 2018, Forbes published their "Best States for Business" list and Inc. Magazine released their ranking of "Best Places in America for Starting a Business." Arizona and its capital city Phoenix rank well on both lists, proving the tech and business scene is still booming in the Southwest state.
Arizona jumped up 6 spots on the Forbes "Best States for Business" list, from number 23 last year to number 17. This proves that Arizona is taking business and entrepreneurship seriously, and that it's becoming a better and better ecosystem for start-ups and new business ventures. Topping the list – perhaps surprisingly – is North Carolina and the last spot belongs to Alaska (no surprise there).
Forbes also ranked Arizona at #5 for growth prospects, no doubt stemming from Arizona's steady population growth over the years. According to World Population Review, Arizona's population has grown nearly 47 percent since 1990, with a current population of 7.2 million.
Phoenix ranked at number 11 on Inc. Magazine's list for best places to start a business, with Austin, Texas at number 1 and Buffalo, New York at number 50. Inc. cited the revitalized Warehouse District – home to the coding academy school and co-working space Galvanize and the Society for Technical Communication – as well as the low unemployment rate as reasons for the rating. Phoenix also had the highest average wage increase across all industries last year (score!).
Arizona is ranking well for businesses overall, but the technology space in particular is a booming industry. The numbers don't lie: there are currently over 400 software companies in Arizona, according to Greg's List, a comprehensive list of all the technology companies in Phoenix and Tucson.
Other metropolitan cities in Arizona are also experiencing tech and business booms, including Mesa, where OptimumHQ is located. Mesa's Office of Economic Development offers a new Business Resource Guide that provides contacts, steps, and resources for starting a business in the city. Mesa is home to more than 24,000 businesses, including a significant number of tech companies – some of the most familiar being Apple, Boeing, Northrop Grumman, and of course OptimumHQ.
There are also dozens of resources for new businesses across Arizona, including city chambers, organizations like the Arizona Commerce Authority, Arizona Technology Council, Local First Arizona (the largest coalition of locally owned businesses in North America), events like PHX Startup Week, and many more.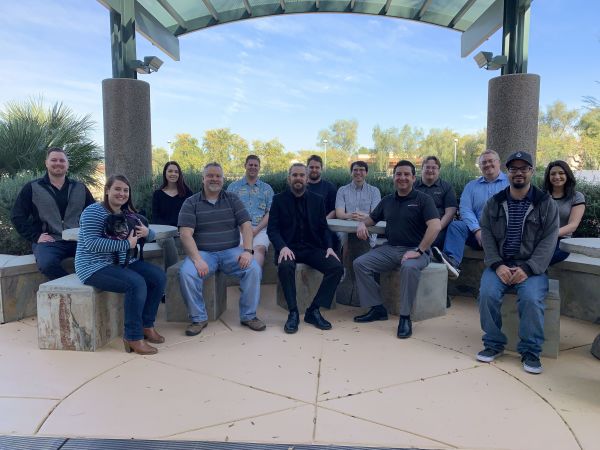 OptimumHQ founder and CEO Simon Chatfield knows Arizona is a booming marketplace for technology companies. Before starting OptimumHQ, Simon owned and managed a successful software consulting firm, The Chatfield Group. When he started planning his next venture, Simon knew he didn't need to move to Silicon Valley to make his next great software idea successful. Arizona has been steadily rising in the ranks on the technology front, and the future seems brighter than ever.
OptimumHQ is experiencing rapid growth and has plans to triple in size by the end of 2019. OptimumHQ, and the 400 other technology companies in Arizona, know The Grand Canyon State has a lot to offer and we're ready for what the future has in store.