Ranking Arizona Releases Arizona's Top Ranked Businesses for 2019!
ARIZONA – They are the best businesses in Arizona. They are innovators, trailblazers, and builders of Arizona's economy. They are the companies that were voted into the 2019 edition of Ranking Arizona, an annual publication presented by AZ Big Media for the 22nd year.
Ranking Arizona is proud to announce that OptimumHQ has earned the Number #1 software company ranking in the 2019 edition.
"The companies that are voted into the top ten are those companies whose customers and clients say are the best companies to do business with in Arizona," said Mike Atkinson, President and CEO of AZ Big Media. "There is no better endorsement in business than one from your customers."
Ranking Arizona is the result of the largest business opinion poll in Arizona. More than 15,000 companies compete annually and only about 2,500 winners are profiled in the publication each year.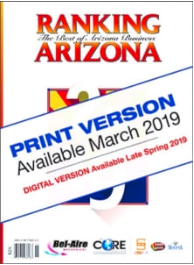 Over one million voters cast their votes based on their opinions of the quality of products and services provided and, on with whom they would recommend doing business.
"Ranking Arizona is an important and valuable resource guide for Arizona's business community," Atkinson said. "The companies that earn awards in Ranking Arizona truly represent the best of Arizona business."
The print issue of the magazine will hit newsstands in March, and the digital version will be available on the AZ Big Media website later this spring.
Help OptimumHQ keep their #1 ranking by voting for them in the 2020 edition of Ranking Arizona.