Topics and Questions
Contact Tracing
How Does Safe Return contact tracing work? We believe there are four fundamental questions to address with any contact tracing solution:
Immediate identification of WHO is COVID-positive?
WHEN were they tested?
WHERE have they been since testing?
WHO ELSE was in the same location(s) on the same days?
Who is COVID-positive? Safe Return health status forms can be submitted in about 15 seconds and HR will be notified in real-time whenever an employee or visitor discloses a COVID-positive status.
When were they tested? The test date for a COVID-positive disclosure is gathered via our health status form.
Where were they? Safe Return uses QR codes on signs placed at any entrance to any location: buildings, rooms, floors, campuses, etc. Whenever someone enters a location with a QR code at the entrance they simply scan the code with their smartphone (or send a text message) and they are automatically logged in as a visitor to that location by date and time of day.
Who else was in the same location(s)? Because all visitors scan QR codes before entering any location, Safe Return is easily able to cross reference all visitors to any location for any date range, in minutes.
What happens when someone says they're COVID-positive? Any COVID-positive disclosure will trigger a real-time alert sent via email or text to the appointed designee. This alert will contain a link to the details of the specific form submittal for immediate investigation and follow up. This form submittal will also be automatically logged into the 'Health Status Alert' tab so that all cases are always easy to find and investigate.
How do we set up a Contact Tracing initiative? Simply click a button to
Assign an owner for every contact trace
Set a date range for the period of time to be investigated
Set a return-to-work date for the COVID-positive person at least 14 days out
Make notes to track progress
Set a risk status for all potential exposures
Is there a limit to the number of Contact Traces? No. Safe Return accommodates an unlimited number of contact tracing initiatives via a Contact Trace dashboard.
Location Tracking
How does Safe Return location tracking work? We let you define an unlimited number of locations and each one is assigned a name, a QR code, and a text message code. These QR codes can be printed and placed at any point-of-entry. Visitors to each location simply use their smartphones to scan before entering and they are automatically logged as entrants by date and time-of-day.
What happens when a QR code is scanned?: Scanning a QR code lets the system know that you are entering a specific location, which can be a building, room, floor of a building, or a campus. A scan will trigger two criteria Safe Return must satisfy:
Identification. If Safe Return already knows who you are (for example it may recognize your cell phone from a previous check-in) then you will not be prompted to self-identify. If Safe Return does not recognize you, it will assume you are a visitor and will ask for your name, company, and reason for visiting.
Current health status. If you have previously submitted a health status form, Safe Return will automatically display your digital health badge with the name of the location you are scanning into. If you do not have a current health status form, you will be directed to the form for submittal.
Why QR Codes? Chances are that most of your employees and visitors always carry a smartphone, so scanning a QR code is an easy way to 'opt in' to a location. Safe Return automatically creates a location specific QR code for every location specified and they can easily be printed and displayed at every entrance.
What would a QR code sign look like? Here's a sample: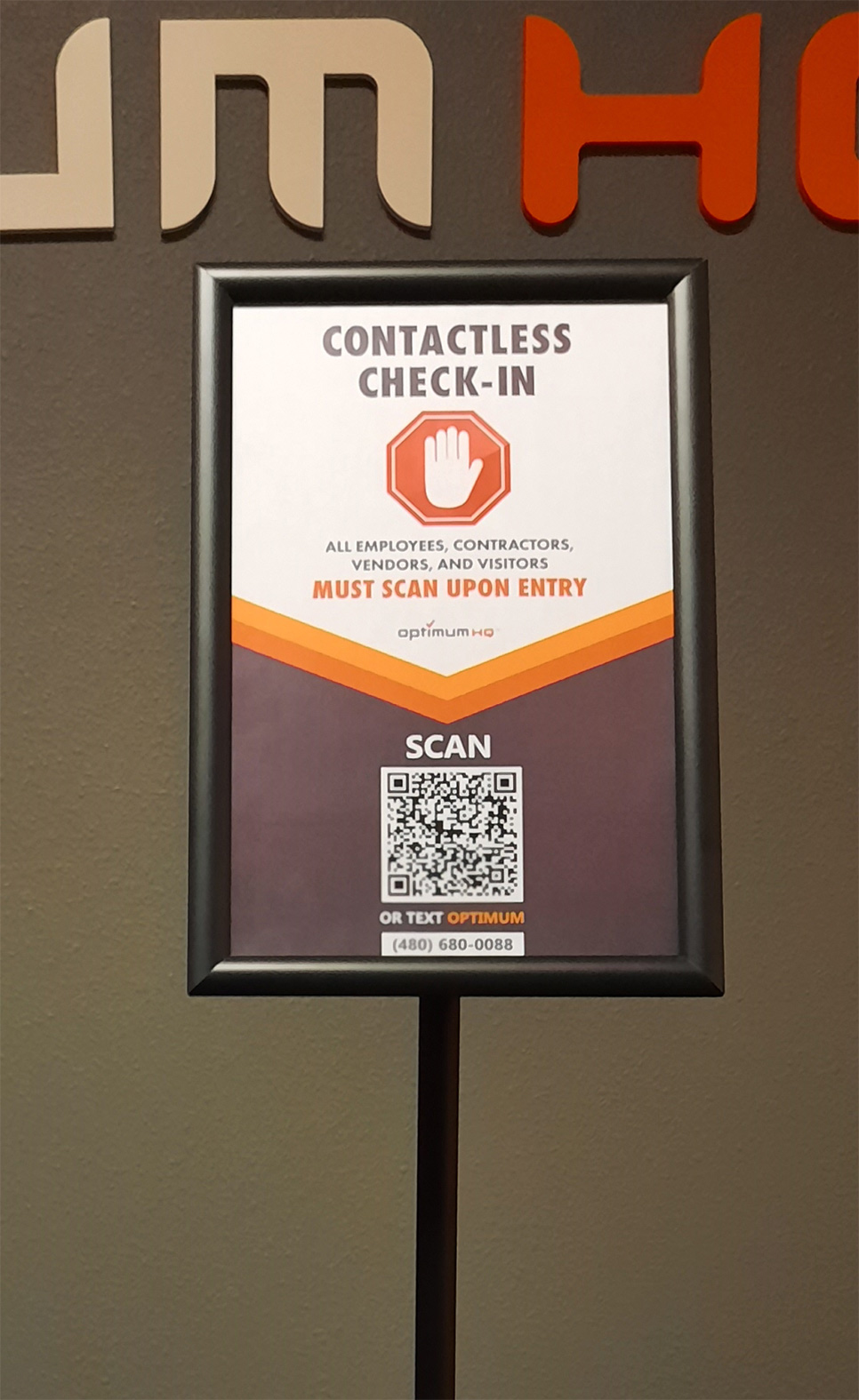 Why don't you use Bluetooth or smartphones to track? Privacy. Many people have privacy concerns about employers knowing their movements. With prominently displayed QR codes and proper signage, people essentially 'opt in' to a location when they scan. If they aren't comfortable having their entrance logged, they can 'opt out' and excuse themselves.
Safe Return Capacity Management and Scheduling
How is capacity established? Using Safe Return's Location tracking capabilities, you can create an unlimited number of locations. A Location can be a building, a room, a cubicle, etc. Each location can be assigned a maximum capacity limit and a current capacity threshold. For example, you may have a building that has a maximum capacity of 100 people but a current capacity threshold of 50%, so you want to schedule and manage the number of people in the building to a maximum of 50. If too many people have checked into a Location, Safe Return will notify you via an alert which can be sent via either text message or email.
How are Locations reserved? Employees can view the available inventory of each Location when reserving a date and time. They will receive a confirmation when the reservation is complete.
What happens if a capacity threshold has been exceeded? If a Location's capacity threshold has been met, the employee will not be able to reserve that Location.
Health Status Forms
How do Safe Return health status forms work? We assume you want to know that every person entering any of your facilities is 'healthy' per the criteria you have determined as necessary for your business. You want to accomplish this as efficiently as possible for you, and for employees/visitors. Our approach to solving this is:
The form is yours. It needs to reflect the criteria you have deemed most appropriate for your business.
The form is 100% customizable
The form can be accessed from any device: phone, laptop, tablet, desktop
The form should require less than 15 seconds to complete
Every form submitted is automatically time stamped with date and time-of-day
Can a health status form be accessed from any device? Yes. Safe Return health status forms can be submitted via any device and the form itself is completely customizable by you. It typically takes no more than 15 seconds to fill out a form.
Can we customize the health status form? Yes. You can add or remove questions. You can add dropdowns. You can require fill-ins. The health status forms are completely customizable to your specific company requirements and guidelines.
What happens when someone submits a non-healthy form? There are a variety of reasons why someone might submit a health status that isn't 100% healthy: they may have mild symptoms; they may have traveled out of state recently, they may have been exposed to a COVID-positive person. Whatever the reason, a real-time alert is sent to the appropriate designee (usually the person's immediate supervisor or HR) with a link to the health status form so that the person can be immediately contacted and instructed whether or not they are cleared to enter your facility.
How do you ensure all employees submit a daily form? Daily reminders via email and/or text. We have found that automated daily reminders are a very effective way to ensure daily compliance with submitting health status forms.
What if an employee forgets to submit a health status form before entering one of my facilities? This is likely to happen and is why we recommend you post QR codes at your main points-of-entry. By scanning the QR code, your employees can quickly fill out a health status form and receive their digital badge in seconds.
What about visitors? Can visitors submit health status forms too? Yes. There are two scenarios for visitors.
If you have a receptionist or a security guard at your point-of-entry, they can simply explain your health policy requirements and access Safe Return to collect the visitors name, company, and reason for visiting. Then they can give the visitor access to the online health status form via either a text to their smartphone or an email. Both options will share a link the visitor can click to fill out a current health status form and receive a visitor digital badge.
For unmanned entrances, simply display a QR code with instructions to scan and all visitors will self-identify before filling out a health status form and receiving their visitor digital health badge.
How do we know if someone has submitted a current health status form? Every valid submitted health status form results in a digital badge that can be shown on a smart phone. These digital badges are color-coded and customizable.
Integrated Kiosk
How does the kiosk work?
For Employees: The kiosk uses facial recognition to identify an employee and automatically adds the temperature to their record. If the employee has already submitted a current health status form, Safe Return will provide an updated digital badge with a color-coded temperature verification. For example, a green stripe means the temperature is within an acceptable range.
For Visitors: The kiosk will take a picture of all visitors in addition to taking their temperature. It will then present the visitor with access to a short form for them to provide their name, company, and reason for visiting. Once complete, they will be routed to the health status form and a digital badge will be provided.
What does the kiosk cost? $1,750 one-time fee which includes implementation, support and integration with Safe Return.
How is the kiosk integrated with Safe Return? With facial recognition, (even with a mask) temperature readings are automatically appended to an employee's record. Depending on whether or not the temperature reading is within your acceptable range, the employee's digital badge will display a second color-code stripe. The first color-coded stripe shows status of a current health status form, and the second color-coded stripe shows status of a current temperature verification.
Do you show the actual temperature on the digital badge? Typically, the temperature status is displayed as "Verified."
Why would we use a kiosk? Many businesses have decided that a current temperature reading is an essential requirement for granting admittance into their facilities. A kiosk is a very efficient, contactless way to accomplish this. However, how do you know if everyone in a facility has complied with this requirement? With the kiosk integration to Safe Return, everyone in a facility will have a digital badge showing a current color-coded temperature status. If the stripe is green, the temperature reading is "Verified." If the stripe is red, the temperature reading is "Not Verified." If there is no stripe, it means there was no temperature check.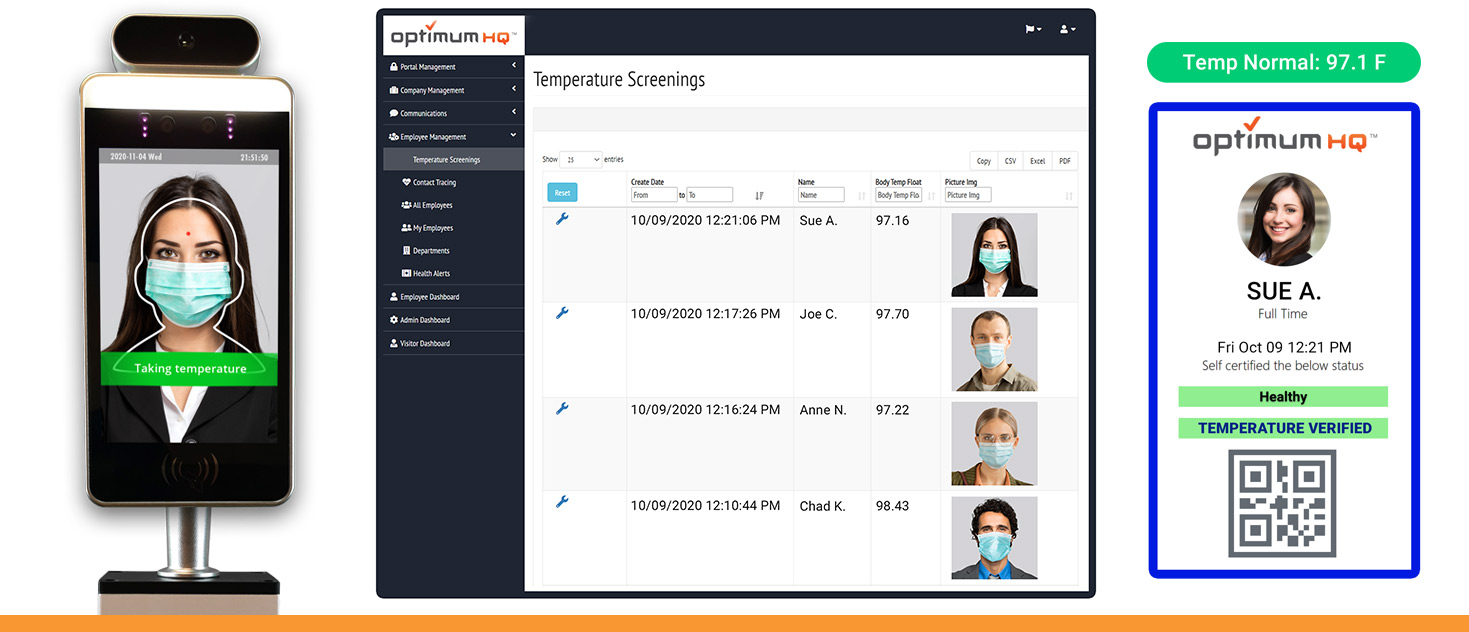 Why is this important? With Safe Return, digital badges are used for visual verification that all persons have submitted a current health status form. This lets everyone know that their company's admittance requirements have been met. The kiosk temperature checks adds another visual element showing proof of an acceptable, verified, temperature check.
Digital Badges
How do Safe Return badges work? Every person who submits a health status form receives a digital badge. The badge is similar to a boarding pass at an airport in that it contains essential information required for entry into your facilities.
The digital badge will display name, date, time-of-day, employee status (Full time or Visitor or Student), and a color-coded health status. For example, a healthy status will display as green and a healthy-but-with-symptoms status will display yellow.
When scanning a QR code for location entry, the name of the location will also be shown on the badge
Every badge has a default setting of 10 hours from the time a health status form is submitted. After 10 hours the badge will automatically turn black and say "Expired". This assures that all color-coded badges are current.
If someone completes their health status form via a desktop, we can send a link to their cell phone for their badge.
What do your digital badges look like?

Can we customize our Digital Badges? Yes. You can put your company logo on the badge, assign colors, modify the text, etc.
How do visitors get a digital badge? Visitors will submit a health status form just like employees and when they do, a digital badge will be sent to their smartphone and it will say 'Visitor' instead of 'Employee'
Customizations
Can I customize Safe Return? Yes. Safe Return is built on our no-code platform which means it is fully customizable. In fact, we built it to be 80% to 90% of what we think you need and we fully expect to customize the rest. We can customize it for you, or we can train you to do your own customizations.
What do customizations cost? Ultimately, it is our hope that you will take our training course and do your own customizations, but we realize not everyone will opt for this. If we do customizations, we charge $200/hr. We also have customization partners and they generally charge a bit less.
What is the customizations process? We will conduct a customizations discovery with you and capture your customizations requirements in writing with time and cost estimates. (Similar to a SoW - Statement of Work) Your formal approval and sign-off will be secured before any customization work starts
What are the most common customizations requested?
The Health Status Form is the most common starting point for customizations. Companies want to add their own questions, or remove certain questions, or add a drop-down, etc.
Making the Health Status From a Declaration Form. Many companies don't want to collect health information like temperature and symptoms. Instead, they change the orientation of the form to a series of statements like "I do not have a temperature greater than 100.4" or "I do not have any of the listed symptoms". Then they have one box to check at the bottom of the form that declares their truthful responses. This type of form gives the ability to declare conformance with the company's health guidelines without disclosing any actual health information.
Location-based reporting. Companies with multiple locations often want to assign access and alerts by location. For example: A company with offices in 6 cities may want the managers of those cities to be able to log in and see activity only for the employees and visitors accessing their specific locations. The New York manager only needs to see data for employees that go to the New York office.
Alerts. Companies with multiple locations and many hundreds or thousands of employees often want health alerts to go only to employee supervisors.
Automated employee churn. Some companies have high and frequent turnover of hourly employees such that manual adds and drops isn't feasible.
Spanish Language Health Status Forms
Single Sign On
Pricing
Forms-Based Pricing
Form-based Fees are based on the total number of submitted forms. For clarification, it doesn't matter if images have been uploaded, or QR codes have been scanned, or if the forms are submitted via email, or text, or manually. All submitted forms incur the same fee.
Monthly Fees by Volume: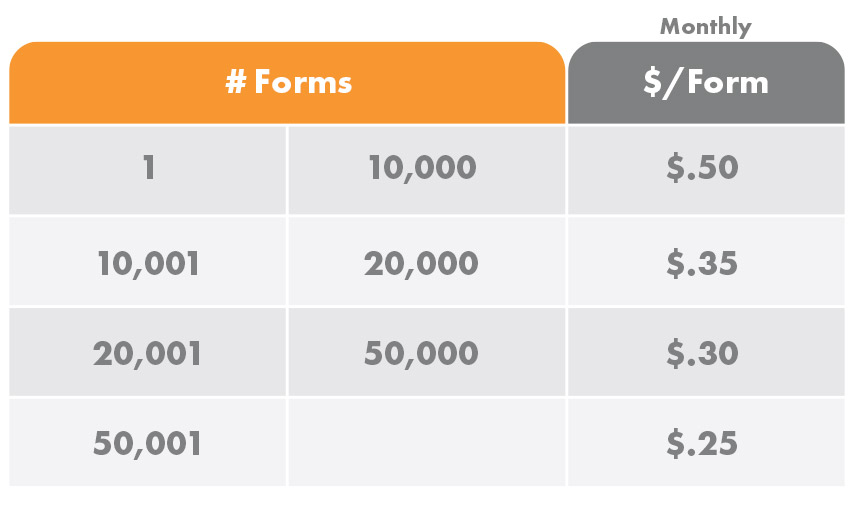 Note: Monthly Fees are paid every month and your agreement can be canceled at any time with 30 days notice.
Annual Fees by Volume:25% discount
Full Time Equivalent User (FTE)
Anyone with 10 or more submitted health check-ins during a month will be considered a FTE.
For all other people whose individual health check-ins are less than 10 during a month. See the Forms-Based Pricing above.
Implementation = $2,400
90 minutes onboarding session via Zoom with a Safe Return Solutions Architect
Training
Employee Uploads
Communications
Invitations
Automated Reminders
Location Tracing and QR codes
Contact Tracing
4 hours of customization services
Optional Touchless Temperature Kiosk = $1,750
Includes implementation and support with Safe Return
Customizations - $200/hr subject to client prior approval
Deployment
How does Safe Return deployment work and how long does it take? Days. The deployment process goes like this:
Upload your employee roster. -- We will walk you through the Excel copy/paste process for inputting your employee roster via our Excel upload template. You export your employee roster then copy/paste the relevant information into our upload template.
Notify your employees -- Let them know that Safe Return is coming and to expect an invitation. When they know in advance that an invitation is coming they are more likely to open the email and take action to establish their account with a username and password.
Send out Safe Return invitations - Each uploaded employee will receive an email (or a text message) with a link to Safe Return, a username and a system-generated password. They log in, change their password, and they're ready to go.
Customizations - Depending on the scope and complexity of your customization requirements, this can take a few more days. Our process is to conduct a full discovery of your customization requirements, capture these requirements in writing, provide you with a cost and time estimate, and secure your explicit approval before any work is done.
Does our IT Dept need to be involved? Not typically. Many of our existing customers have successfully deployed Safe Return without hands on IT assistance. Some have an IT resource assigned, and this certainly helps if the objective is to completely do your own customizations. Standard deployments with a customized health status form do not require deep technical or programming skills.
Data Security and Privacy
How secure is our data in your system? Safe Return is fully SOC2 compliant.
What is SOC2 and why is it important? SOC 2 compliance is a component of the American Institute of CPAs (AICPA)'s Service Organization Control reporting platform. Its goal is to make sure that systems are set up so they assure security, availability, processing integrity, confidentiality, and privacy of customer data. SOC 2 is both a technical audit and a requirement that comprehensive information security policies and procedures be written and followed. SOC 2 applies to technology-based service organizations that store customer data in the cloud. That means it applies to pretty much every single SaaS company, and any company that uses the cloud to store its customers' information. SOC 2 is one of the most common compliance requirements that technology-focused companies must meet today.
Is Safe Return GDPR compliant? Yes
Is Safe Return CCPA compliant? Yes
HIPAA
Is Safe Return HIPAA compliant? HIPAA privacy protections apply to information shared between a care provider and a patient. HIPAA protections do not apply to information shared between an employer and an employee. Our existing customers are all comfortable with the data security provided via our strict compliance to SOC2. Alternatively, some clients opt to design their health status form as a Declaration Form instead of a data-gathering form, which means no individual health information is actually collected.
OptimumHQ has built many HIPAA compliant solutions. If this is a requirement, please contact us for more details.
No-Code Platform – Hybrid Solution
Safe Return is a Hybrid solution - why is this important? A hybrid portal solution offers the best of a packaged solution and a custom solution. We've built our portal on our no-code platform and the version of the portal you deploy will be uniquely yours, with customizations made to perfectly accommodate your work processes. Our goal is to give you everything you need...and nothing you don't need.
Does it work with both email and texting? Yes. If using text messages for communications or alerts, you need to be sure to also upload your employees' cell phone numbers.
Is Safe Return a mobile app? No. Our solution is a SaaS Portal with responsive design, so it works the same on any device. All users needs is a browser, a username/password to log in.