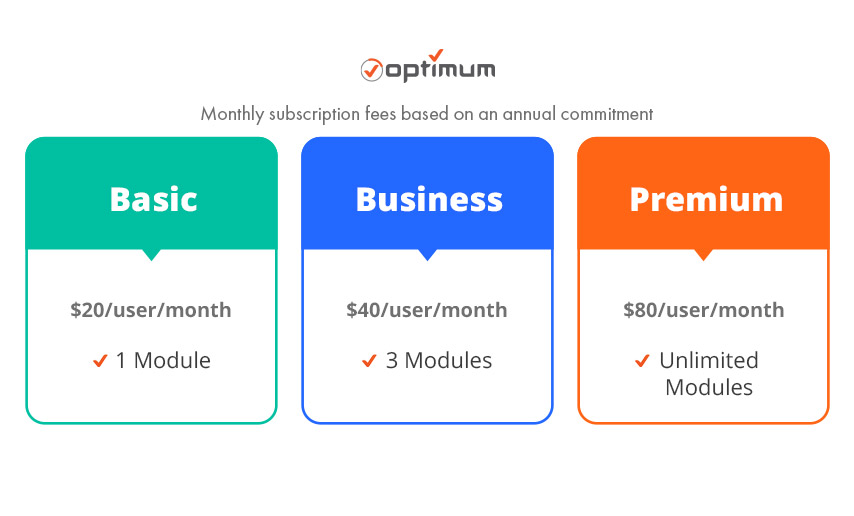 What does it cost to implement a Solution Module?
Each Solution Module has these cost elements:
Implementation Fee: $2,400
Customization Fees: $200/hr
Monthly Subscription Fees:(With an Annual commitment)

Basic: $20 per User per Month
Business: $40 per User per Month. Allows access for up to 3 Solution Modules
Premium: $80 per User per Month. Allows access to unlimited Solution Modules
What Does the Implementation Fee Include?
Set up and delivery of your own company-specific instance of your Solution Module.
5 hours of customization services
90 minutes introductory training and onboarding with a Solutions Architect
Is There a Support Fee?
General support is included as part of your monthly subscription fees.
Do You Have a Volume Discount Option?
Yes. Please contact your Sales representative to discuss pricing flexibility for Subscription fees, Implementation fees, or Customization fees.
Do You Require Prepayment?
The Implementation Fee will be invoiced as a one-time, up-front payment when we get started. Subscription Fees are invoiced monthly, and Customization Fees are invoiced as delivered.
Do You Provide Month-to-Month Pricing?
Yes.
Monthly Subscription Fees:

Basic: $25 per User per Month
Business: $50 per User per Month. Allows access for up to 3 Solution Modules
Premium: $100 per User per Month. Allows access to unlimited Solution Modules
Annual commitments with monthly payment schedule
One-time Implementation fee: $2,400. Includes 5 hours of customizations
Users incur a monthly fee: $20/User
Active Students incur a monthly fee: $3/Active Student
Customizations are charged per hour: Subject to SoW
General Support is included